​
My content is reader-supported by awesome people like you.  Which means I could earn a commission.  Learn more here!
I've been covering the Shopify POS system a bit especially since it's beneficial for anybody building a website.
I figured let's check out the Shopify Pricing fully so you can go ahead and make a good decision based on some more info.
My goal for this article is….
Possible hidden costs
Transaction fees
Hardware costs
Additional fees
Shopify POS plan costs
What is the difference between Shopify POS lite vs PRO for costs and what you get
I feel it's always good to understand what you're getting into.
Thankfully,
It's Shopify so if you have done your research you know they are a legit company with a fantastic eCommerce platform.
Shopify POS Pricing Summary
| | |
| --- | --- |
| Is there a free trial? | Yes – Right now 3 free days and then 3 months for $1 per month |
| What is the cheapest POS plan | The Starter/Lite plan starts at $5 monthly |
| Does Shopify sell POS hardware | Yes, they have a full assortment of hardware with a 30-day return policy |
| Who is Shopify POS most likely for | Personally, any company that sells online and in person |
| Is the customer service good? | Yes,  A huge reason I like Shopify because of how great the service is. |
Upfront costs to sell with Shopify POS
A few key things are knowing you will need a smartphone or tablet and as well a Shopify card reader.
It's possible too you may need to add hardware to get ready.
Shopify Pricing Plans To Have Shopify POS (You Need This)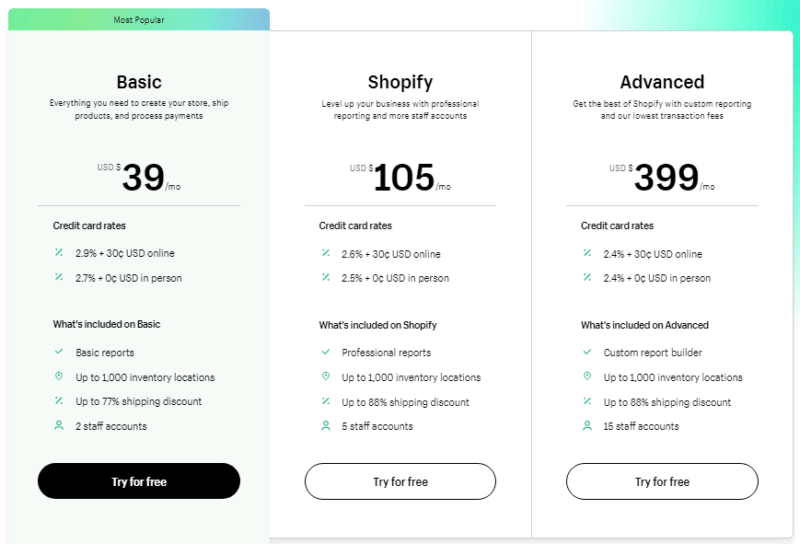 It's obvious Shopify wants you to combine so you are going to have the overall cost of your plan + transaction fees + your POS Pro location if you go this route.
This is good to know upfront.
Shopify POS Software System Pricing (Might as well start here)
Shopify offers the Lite POS system that's included at the starting point of the Shopify Starter Plan
And up.
So, it's included in your Shopify eCommerce website builder plan.
Once you're getting serious you upgrade to the Shopify Pro Retail Plan starting at $89 monthly per location or it comes out to $79 monthly per location if you pay annually.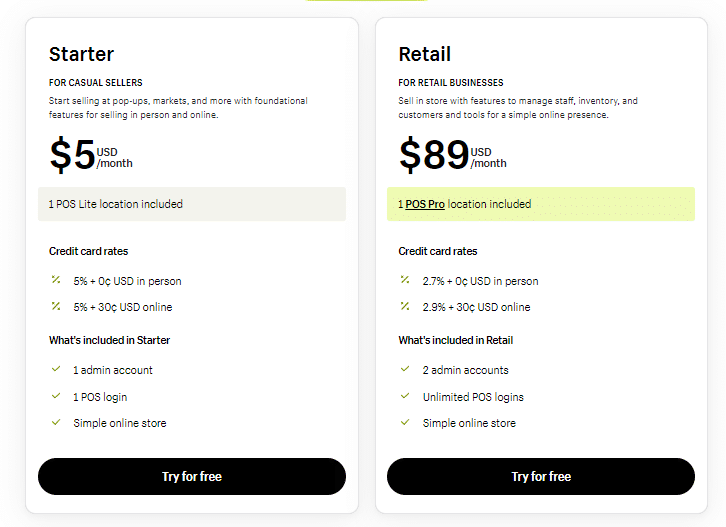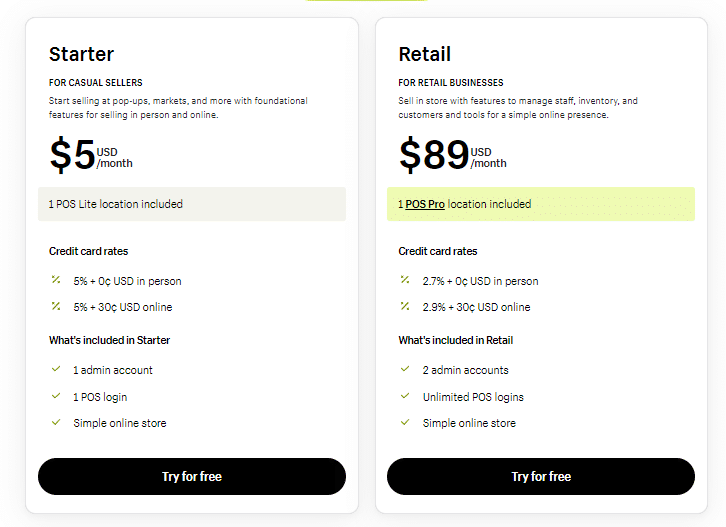 So keep in mind for an example.
You have the Shopify Basic Plan at $39 monthly which you have to pay plus the costs of your retail costs.
Coming out to $128 monthly
This also won't include transaction fees also.
But of course that's only if you sell something which we know you will be.
What are the Credit Card rates for Shopify POS?


This can play a large part too!
The basic POS system included is going to run at 5% + 0¢ USD in person
With the Retail plan, it's going to run 2.7% + 0¢ USD in person
Now if you have the Shopify Advanced plan or Shopify Plus you are going to be looking at 2.4% + $0
Hardware Costs For Having  Shopify POS Plan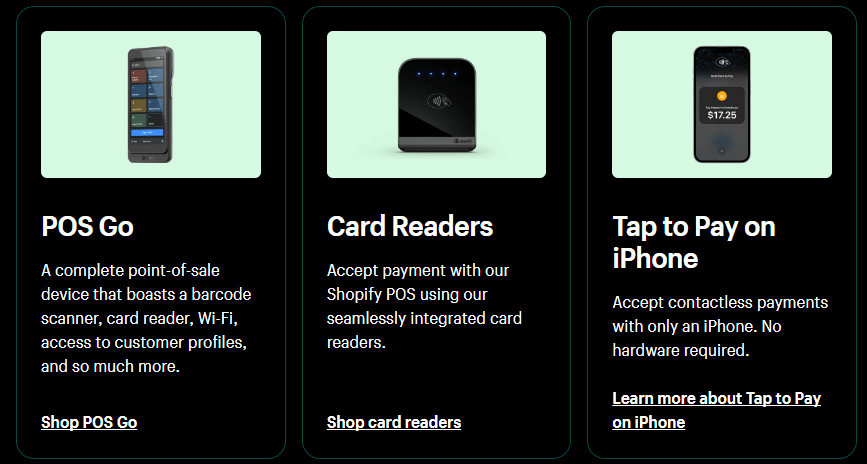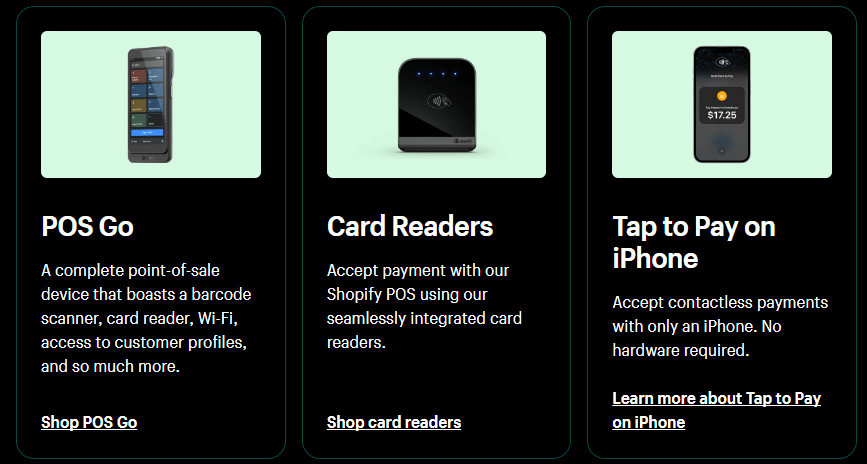 Shopify offers a ton of different hardware options.  
Here are a few of the price points:
Shopify POS Go – Starting at $399 
Shopify Tap & Chip Card Readers – $49
Cash Drawer – $139
Shopify Retail Kit – $219
Receipt Printer – $269
Renting POS Hardware – Bundles for renting start at $9 a day which could be awesome for special events
One nice thing is they do offer returns within 30 days which makes it a nice feature right there.
Shopify POS Apps (Additional Add-Ons)
Shopify offers quite a few apps that could have large benefits for your new POS of sale venture.
Here are a few to give you an example:
Zapiet – enhanced pick-up and delivery system. – starts at $29.99 monthly
Evey Events & Tickets – Sell tickets for your online or in-person event – starts at $189 a monthly plus $0.25 per ticket sold.
Hopefully, this gives you an idea of additional costs if you decide to add these apps.
Of course, it's all at your choice but it's good to know this.
Shopify POS Pricing FAQ
What type of business use Shopify POS
For Shopify POS the most value comes from selling products online and as well in person.
Is there a return policy on the Shopify POS hardware?
Yes, it comes with a 30 day money back guarantee.
How much does Shopify POS cost?
It's a combination of your Shopify plan, transaction fees, and POS pro locations.
Is there any contract I'm stuck with?
No, just what you have paid for. But there won't be any long term commitment with the Shopify POS platform.
Conclusion On Shopify POS Pricing 
Over all the goal is to remember if you go pro its per location and keep that in mind.
I feel this is a great asset especially if someone is utilizing the eCommerce website builder options Shopify is known for.
Any thoughts?
Post Disclaimer
The information provided in our posts or blogs are for educational and informative purposes only. We do not guarantee the accuracy, completeness or suitability of the information. We do not provide financial or investment advice. Readers should always seek professional advice before making any financial or investment decisions based on the information provided in our content. We will not be held responsible for any losses, damages or consequences that may arise from relying on the information provided in our content.