​
You've done your brainstorming sessions. You've done your market research. You've even done your prototyping and price testing. Just as you thought most of the hard work was over, you're left with one huge challenge to overcome: launching your product.
Before you think about organizing a grand unveiling event or spending all of this quarter's budget on giant billboards, you must go back to basics. We're talking about email marketing.
Whether it's a new pair of sneakers or an online coaching program, you can use email marketing to boost your new product's awareness and increase sales.
But what does a great product launch email look like, and how can you create one that genuinely excites people? More importantly, how can you use it to increase conversion rates for your new product? Let's dive in.
What is a Product Launch Email?
It's much more than a simple message that you send to (potential) customers to alert them of a soon-to-be-released product.
Source: Yallah
A product launch email is a core part of your overall launch and go-to-market strategy — it could be the difference between a successful launch day and a product release that falls flat. 
As such, you should become familiar with the ins and outs of these promotional emails before you sit down to write one. Of course, just like any other email, it should feature all the main elements, such as:
Subject line
Introduction
Email body
Conclusion
Call-to-action (CTA)
Before we explain how to craft your email announcement, it's crucial to understand why you should write one in the first place.
Why Write a Product Launch Announcement Email?
There are numerous compelling reasons for running a product launch email campaign. Here, we'll discuss three of the main ones and highlight the benefits they can bring.
It's Affordable
Even if you can afford to allocate a considerable budget to an extravagant promotional event, that doesn't mean you should. After all, the new product may not yield the expected results, and you could end up hemorrhaging money. If you are a small business on a budget, you'll want to invest your cash carefully.
This is why email marketing is your new best friend. Emails are so inexpensive that adding them to your launch strategy is a no-brainer. Plus, they can help you reach a significantly larger audience than an in-person event, which leads us to our second point.
It Increases Awareness
In the traditional brick-and-mortar retail sector, promoting a new product is usually done in-store. You might hand out leaflets and discount vouchers, place promotional posters in strategic parts of the shop, and train staff to mention new arrivals to customers interested in similar products. 
But this type of communication can be challenging if you're an online business – particularly a bootstrapped eCommerce startup. Does this mean your product launches are doomed to fail? Of course not – but it's all the more reason to leverage the power of product launch emails.
With more than four billion email users each day, the potential that email marketing offers is astounding. If you want to advertise your new product and boost awareness, then a product launch email is a must. 
It Leads to Faster Product Uptake
Some of the best things about a launch email are its potential to generate hype around your new product and its ability to show customers how to use and make the most of it.
By crafting an informative, interactive, and engaging campaign, you can boost your product uptake once it reaches the market. A teaser email sequence with feature announcements will make email subscribers feel more connected to your product before it's even released. 
They'll understand the basics of how it works and how it can benefit them, hopefully making them eager to try it out as soon as it lands.
Pillars of Effective Product Launch Emails
If we had to sum up the top three features of an effective launch email, they would be: 
High personalization
Compelling content
Straightforward messaging. 
Let's take a closer look at each of these.
Personalized Messaging
You probably already know how powerful a customized email is compared to a generic one. But even if you are aware, consider this: research suggests that emails with a personalized subject have a 26% higher unique click rate and an 11% higher click-to-open rate.
So, when it comes to product launches, make sure your messaging speaks to each recipient by personalizing the subject line and greetings.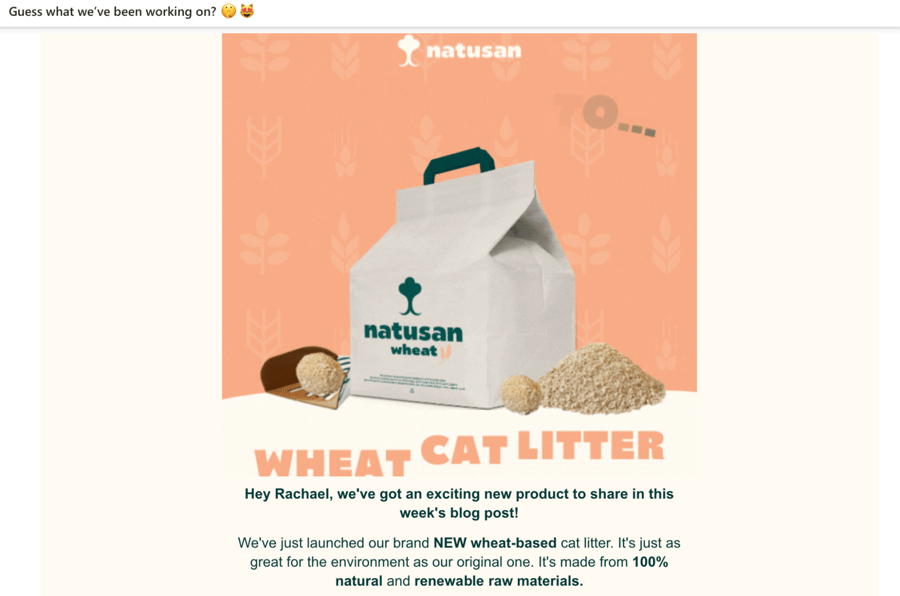 Source: Natusan
Compelling Language
You know the buzz you felt when you realized your new product was as awesome as you had played it out in your mind for months? Channel that enthusiasm into your product launch email!
Bringing a new product to market is genuinely exciting, so you want your content to sound equally as exhilarating, stimulating, and inspiring. Do this well, and you'll be one step closer to turning each email subscriber into a paying customer.
Straightforward Content
This may contradict what we've just said, but let us explain. On one hand, you want your email to sound as compelling and exciting as possible. On the other hand, you also need to keep things short and sweet. 
With this in mind, the email body should be simple and get straight to the point. This is particularly beneficial if you're launching a tech product – such as a virtual fax solution – where the features and uses might be tricky to comprehend for a non-tech-savvy audience. In this case, you might consider a series of emails that slowly introduce more complex topics over time.
4 Types of Product Launch Emails
There's one more crucial thing you'll need to get clarity on before creating your email: it's worth crafting more than one. Ideally, you'll have a strategic product launch email sequence that includes at least the following.
1. Preview
Send a teaser to your email list a few weeks before launch day. Offer a sneak peek of your upcoming product and complement it with a basic description. Of course, you don't want to give away too much information, but it's worth exploring a series of brief benefits you anticipate for the user.
2. Pre-Launch
Before the scheduled launch, consider utilizing a select group of people to try out the product. Once you have identified the right participants, send them the product to use for a few days or weeks, then send them a pre-launch email to request feedback.
This will help you determine whether the product works as expected and generate hype and anticipation. At this stage, you could also consider launching a small demo or product giveaway to entice users to purchase the full version once it's available.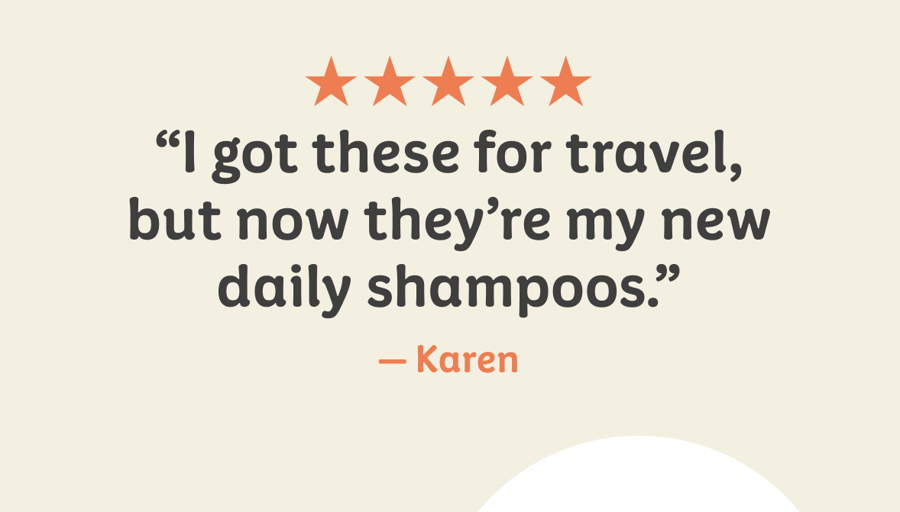 Source: Good Time
Remember that you can also use this feedback in emails later in the sequence. Genuine customer testimonials are a brilliant way to foster trust and boost sales.
3. Pre-Order
The clock is ticking, and you're only a few days away from launch. Now is the time to send out a pre-order email, letting your contacts know how to order the new product in advance and ensure it's delivered as quickly as possible.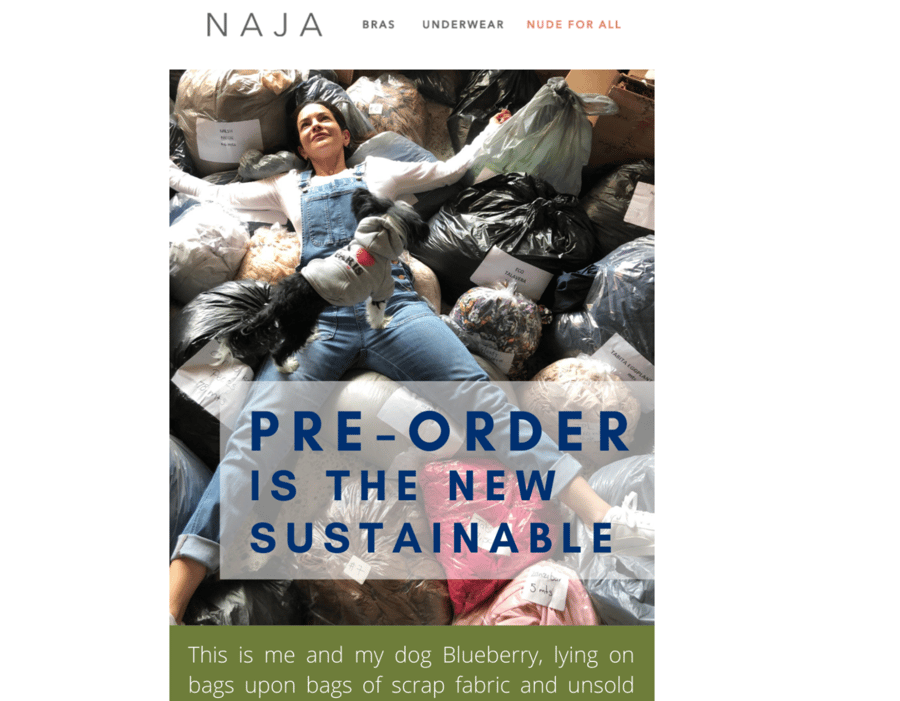 Source: Naja
4. Official Product Release
Congratulations, you made it to the Big Day! Now, you're ready to craft that amazing product launch email to boost awareness, maximize reach, and skyrocket sales.
The Anatomy of a Great Product Launch Email
Now that you understand why product launch emails are so important and how they work, we can dive into how to put together your stellar email. Your product launch email should be comprised of the following essential elements.
Write a Personalized, Catchy Subject Line
As we've seen before, a personalized email is a surefire way to increase open rates and pique your reader's interest. And what's the best way to begin a personalized email? Writing a personalized subject line is a great place to start.
The email subject is the first thing a recipient reads when a new message lands in their inbox. Crowded inboxes can be a minefield, so you want your subject to be as eye-catching and compelling as possible. Customizing the subject line doesn't have to be complicated: it can be as simple as greeting your recipient by their first name.
Remember to keep it brief. You'll have plenty of opportunities to fine-tune your email's personalization later.
Show a Sneak Peek of the Product
Now that you caught your reader's attention amongst a flood of samey-samey emails, it's time to offer them some value immediately. So, begin with an introduction to your new product. 
This can be very high-level and concise, and you may simply want to focus on your new product, how it works, why your customer will love it, and when it will be available.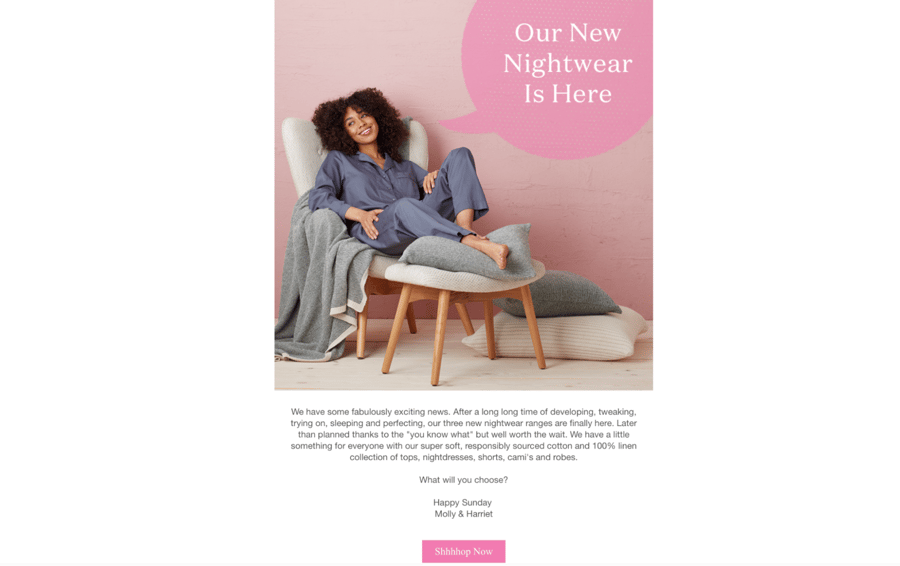 Source: Secret Linen Store
Include Benefits for the Users
Why do most people purchase a product? They buy it because they want their lives to improve, believe that a specific item may help them achieve that goal, or simply don't want to miss out.
So, now that you have given your readers a taste of your new product, it's time to expand on the benefits they can gain from it. Make them clear, concise, and captivating, and format the benefits in an easy-to-digest, user-friendly way, such as with bullet points or visuals.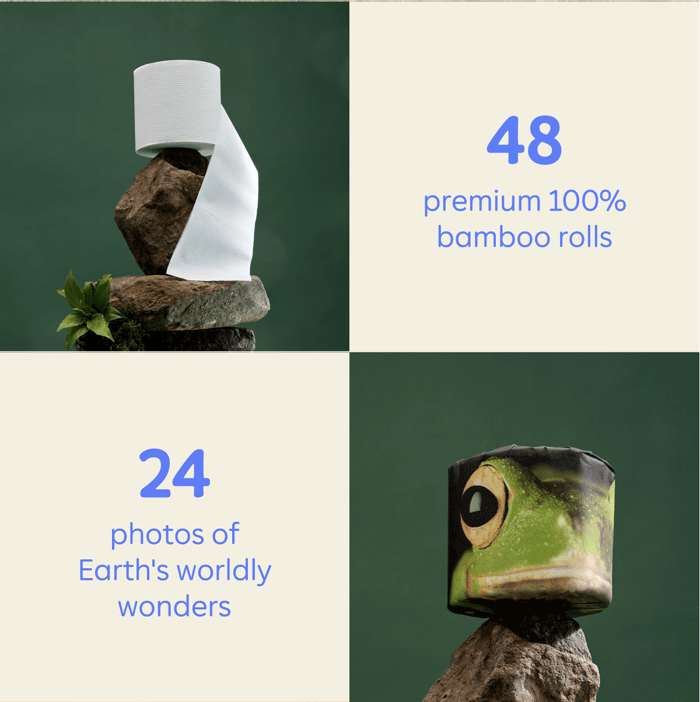 Source: Who Gives a Crap
Incorporate Visuals and Interactive Elements
Speaking of visuals, elements such as images, video clips, infographics, GIFs, and more can turn your product launch email into an attractive and interactive source of information and engagement. It's even better if they're personalized to the recipient.
Remember, though, that you want the email to load quickly and correctly without overbearing your audience with too many interactive items. Two or three visual elements are more than enough.

Source: Pubconcierge
Craft a Strong CTA
The closing can truly make or break your product launch email's effectiveness. It's worth personalizing this section, too, by including your recipient's first name and adding a unique, memorable, and eye-catching call-to-action (CTA). 
Quickly summarize the value your new product can bring your customers and leverage clear, positive, and action-driven language to lead them to the next step — likely, the purchase of your product.
Crucially, remember to include relevant contact details, such as your website, social media accounts, and business phone number, in case a prospect has a specific question and needs to get in touch with you before the launch.
Key Takeaways
Launching a new product is daunting — and expensive — whether you run an eCommerce startup or an established brand. However, if you want to simplify the whole process and make it more affordable, a carefully crafted product launch email campaign should be part of your broader strategy.
Now that you've learned how to compile a series of emails that will make your content unique and engaging, you're all set to turn the vision of your new product into a tangible, successful, and profitable reality!
Post Disclaimer
The information provided in our posts or blogs are for educational and informative purposes only. We do not guarantee the accuracy, completeness or suitability of the information. We do not provide financial or investment advice. Readers should always seek professional advice before making any financial or investment decisions based on the information provided in our content. We will not be held responsible for any losses, damages or consequences that may arise from relying on the information provided in our content.