​
The ease of launching an online store, coupled with an increase in cross-border transactions, has lowered the barrier to entry into the world of eCommerce.
Other than picking a hero product, choosing eCommerce tools to perfect your product offerings, optimize marketing strategies, and nurture customer relationships decides if you'll win this game!
From automating repetitive tasks to reverse-engineering competitors' growth patterns, these tools can do it all for you.
So, we've categorized them into six main categories: website, research, business, marketing, analytics, and social media management tools.
But first, let's talk about:
Why You Need To Invest In The Right Tools To Grow Your eCommerce Business
Whether you're launching an online store from scratch or buying an existing eCommerce business, investing in the right tools is imperative to help you scale up and make you successful. Here are a few areas to focus on. 
Functionality Plus Features: Different tools offer inventory management, payment gateways, shipping, categorization, and support. Picking tools aligned with your needs ensures smooth daily operations and a better customer experience.
User Experience: The right eCommerce tools can help you create an intuitive and user-friendly website, leading to higher customer satisfaction, increased conversions, and more recurrent business. Building a mobile-friendly online store is a must, as studies show that over 85% of mobile users abandon carts because of complex buying experiences and bad UX.
Integration Capabilities: Integrating with third-party solutions helps you automate processes, reduce manual work, and boost overall efficiency for more bang for your buck.
Security: Running an online store involves handling sensitive customer information like payment details and personal data. Using reputable and secure eCommerce tools protects your customers' data.
Analytics and Insights: Tracking KPIs (key performance indicators) helps you understand customer behavior, identify trends, and make data-backed business decisions.
Customer Support: In case of technical issues or challenges, customer support can be a lifesaver. Plus, they ensure you can quickly resolve problems, minimizing downtime and potential revenue loss.
6 Types Of Tools You Need To Build And Grow Your eCommerce Business
Now that you understand why eCommerce tools can help grow your online business, let's dive into the specific types of tools you should consider implementing.
Website Tools
Before you zero in on an eCommerce platform that offers full-suite website building and management tools, you need to:
Consider the technical skills required for setup and maintenance, ensuring they align with your team's expertise.
Evaluate the platform's cost, including setup, transaction fees, and ongoing expenses, to fit your startup's budget and provide a good ROI. 
Prioritize SEO-friendly platforms to enhance online visibility and organic traffic. 
Opt for mobile-friendly designs for a seamless shopping experience on any device. 
Utilize robust onsite search capabilities to help customers find products quickly, while scalability ensures smooth growth without disruptions.
Investigate integration options and security features for reliable customer support and positive user reviews.
For example, Shift4Shop is a turnkey eCommerce platform with user-friendly features for building and managing online stores in an end-to-end fashion. It offers customizable website templates, including direct HTML and CSS editing.
Marketing tools help you boost visibility through email, social media, SEO, and coupons.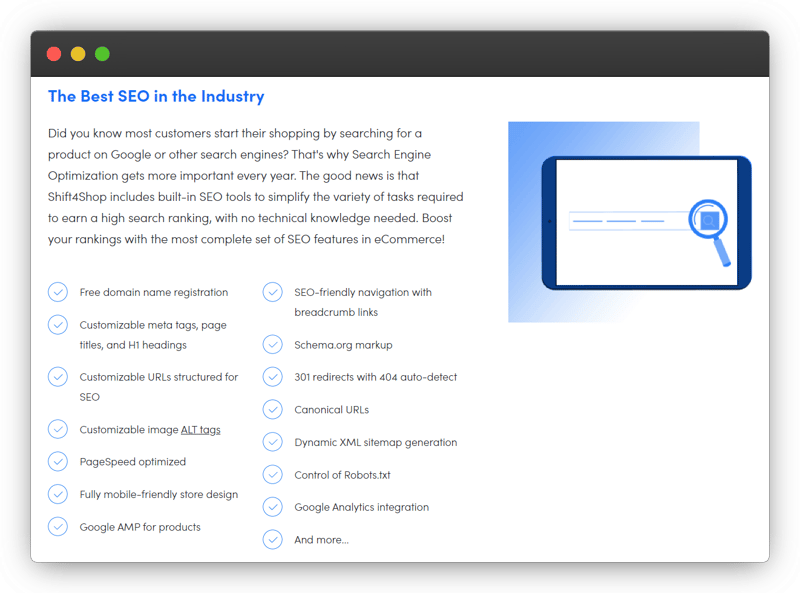 Efficient product management includes variants, categories, and inventory tracking. Order management tools streamline processes and ensure customers receive their products on time.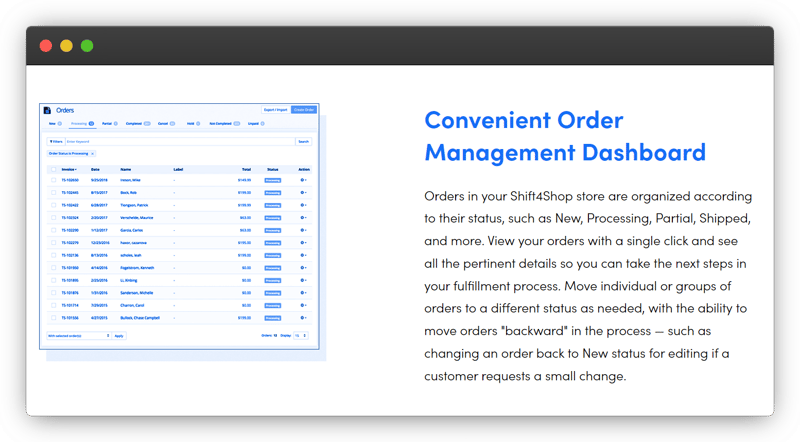 Integrated payment solutions with PCI compliance and fraud protection ensure secure transactions and support digital wallets.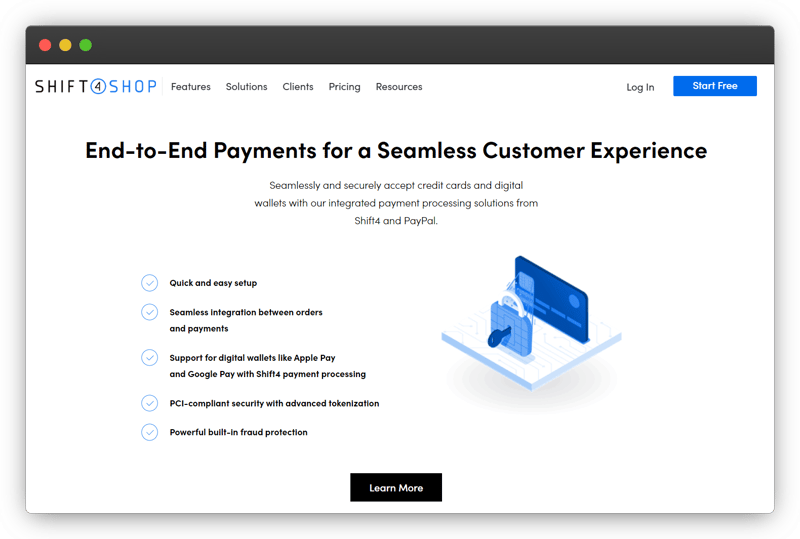 Research Tools
Research tools give you critical insights in three domains: understanding competitors, spotting niche opportunities, and refining your site and campaigns.
Plus, since they also give you access to actionable customer preference and engagement data, you can optimize hero product research, pricing, and marketing strategies.
So, if you're in the market for a research tool, ensure it helps you with:
Audience Insights: These help you understand your target audience's preferences, behaviors, and demographics. Knowing why and how they buy enables you to tailor your products, content, and marketing campaigns to better meet their needs. For example, SimilarWeb provides data on traffic sources, audience demographics, and engagement metrics for both your site and competitors' — helping you understand your audience and where they come from.
Competitor Analysis: This feature allows you to analyze your competitors' online activities, strategies, and performance. You can gain insights into their traffic sources, keywords they rank for, backlinks, and more. This information helps you deeply understand their strengths and weaknesses and can guide your own strategies. For example, Ahrefs provides comprehensive data on competitors' backlinks, keywords, and ranking positions, helping you reverse-engineer their SEO strategies.
Niche Opportunity Identification: This type of tool monitors trends and shifts in your niche. By analyzing consumer behavior and emerging trends, you can pinpoint gaps in the market and anticipate evolving customer preferences. This allows you to create products or services that cater to untapped demand. For example, BuzzSumo allows you to find trending content and topics in your industry — helping you identify what's currently resonating with your target audience.
Business Tools
The right business tools cover various operational areas — from managing inventory and orders to handling shipping logistics and finances. 
Basically, they help you streamline processes to increase day-to-day operational efficiency.
Let's take a closer look at where and how they can help your eCommerce business:
Mockup and on-demand printing tools like Printful can help you with product mockups and inventory building. This may not apply if you source your products from a supplier or a distributor.
Inventory and order management software like Zoho Inventory and QuickBooks Commerce help you track stock levels, reorder products when needed, streamline order processing and multi-channel sales, and prevent overstock or stockouts. They provide real-time visibility into your inventory, enabling you to optimize stock levels and avoid lost deals due to product unavailability.
Customer relationship management software like HubSpot and Agile CRM offer lead tracking, marketing automation, and customer support features like ticketing systems to resolve customer issues quickly. This allows you to centralize customer data, automate marketing efforts, and enhance customer relationships — helping increase sales numbers.
Payment processing systems like Shift4 offer customizable checkout options, PCI compliance, and top-notch security features to offer frictionless and secure online transactions. As the risk of fraud is reduced, customers leave with a positive shopping experience. If you offer a subscription box service, look at subscription billing systems. 
Shipping and logistics tools like ShipStation help you manage shipping options, generate shipping labels, track shipments, and calculate shipping costs. They ensure timely and accurate delivery of orders, which increases customer satisfaction.
Marketing Tools
Ecommerce marketing tools offer a variety of capabilities that empower you to promote products and engage with your target audience effectively. 
From broadening brand reach through social media to nurturing customer relationships through personalized email campaigns, marketing tools are what help you drive sales, build brand loyalty, and optimize marketing strategies for sustainable growth.
Let's get deeper:
Building Brand Awareness: These tools enable you to consistently present your brand identity, values, and products to potential customers. Through consistent and strategic efforts, you can stay top-of-mind, making it more likely for customers to think of you when making purchasing decisions.
Email Marketing for Lead Nurturing and Customer Relationships: Facilitate the creation of personalized email campaigns that target different stages of the customer journey with email marketing services. This enables you to find the right emails to reach out to, nurture these leads, provide valuable content, and offer exclusive promotions to subscribers. Regular communication can establish trust and credibility, leading to more repeat business.
Use Of Discounts And Coupons: These enable you to bake in discounts, coupons, and special promotions effortlessly. These incentives can create a sense of urgency and encourage your customers to purchase sooner rather than later. Coupons and discounts can also be strategically used to reward loyal customers, attract new ones, and clear out excess inventory.
Retargeting And Remarketing: These tools allow you to reach out to users who have previously interacted with your website or products but didn't complete a purchase. By presenting relevant ads or offers to these users across different online platforms, you can re-engage them and increase the likelihood of conversion.
Analytics Tools
Analytics tools transform raw data into actionable insights for eCommerce businesses. Tools like Mouseflow and Mixpanel empower you to boost sales with data-driven decisions by tracking sales, understanding customer behavior, and optimizing marketing strategies.
These tools can:
Allow you to track KPIs like sales, orders, and conversions. By monitoring these metrics, you can understand the impact of your marketing efforts, product offerings, and website design on customer behavior and revenue generation.
Help you uncover patterns related to how customers navigate your website, what products they view, how long they spend on different pages, and what ultimately leads to conversions. This information is vital for understanding customer preferences, pain points, and decision-making processes.
Enable you to segment the customer base based on behavior, demographics, and other factors. This segmentation helps you create targeted marketing campaigns that resonate with specific customer groups, increasing engagement and conversion rates.
Help identify potential drop-off points within sales funnels. For example, you can pinpoint where users abandon their shopping carts or exit your website without completing a purchase. This information helps you optimize UX and reduce friction points that might be roadblocks for conversions.
Provide insights into which sources drive the most traffic, whether organic search, social media, paid ads, or referrals. Plus, bounce rates offer insights into the relevance and engagement level of your landing pages by showing what percentage of users exit your landing page without taking an action after viewing it just once.
Allow you to analyze conversion funnels, identifying where users drop off and which steps contribute most to successful conversions. By optimizing these pathways, you can increase the likelihood of guiding users through the entire purchasing process.
Social Media Management Tools
Social media management tools provide comprehensive features that help you with content creation, scheduling, monitoring, engagement, and performance analysis.
When choosing a social media management tool, make sure that it can:
Include features such as image editing, design templates, and content libraries. These tools help you maintain a consistent and visually appealing brand presence by creating engaging posts that resonate with your target audience while staying true to your brand identity.
Allow you to schedule posts in advance. This ensures a steady flow of content even during non-working hours or when your team members are occupied with other tasks. By strategically scheduling posts, you can reach your audience at optimal times when they are most active and likely to engage.
Enable you to keep track of brand mentions, comments, and messages. This real-time social media monitoring helps you promptly respond to customer inquiries, address concerns, and engage with positive (plus negative) feedback. Timely and personalized interactions enhance customer satisfaction and help you build a positive brand reputation.
Aggregate brand mentions, allowing you to gauge how your audience perceives your brand. This can guide future content strategies and influence product or service improvements based on customer feedback.
Provide detailed analytics on post performance, audience engagement, and other relevant metrics. This information can help you assess which posts resonate most with your audience, the demographics of your followers, and engagement trends over time. This data-driven approach empowers you to make informed decisions, refine your social media strategies, and allocate resources effectively.
Wrapping Up
Running and growing an eCommerce business isn't complicated, provided you pick the right tools under your budget. From optimizing checkout experiences to driving social sales, what will help your business the most? Also, which tools are you going to pick for your online store? Let us know in the comments!
Post Disclaimer
The information provided in our posts or blogs are for educational and informative purposes only. We do not guarantee the accuracy, completeness or suitability of the information. We do not provide financial or investment advice. Readers should always seek professional advice before making any financial or investment decisions based on the information provided in our content. We will not be held responsible for any losses, damages or consequences that may arise from relying on the information provided in our content.