​
Starting a business is a juggling act. Activities like getting a business loan, creating a logo, sending email marketing campaigns, and monitoring sales can be tiring and limit productivity.
If you're working alone, you'll need all the help you can get to manage your time effectively and keep everything on track for your business launch.
The tools you use can be the difference between a successful business launch and a failed one. 
So, let's look at nine affordable and user-friendly business tools that can significantly benefit new business owners.
1. A Website Builder
You'll need a website for your business; the earlier you have it, the better. A website can help you build an email list that you can use to supercharge your sales process. 
Apart from that, a website will be the first thing your customers interact with. So, the key is building a website that provides your customers with a seamless experience. If your website has a bad UX (user experience), 88% of consumers will be less inclined to revisit it.
That's why selecting the right website-building platform is pivotal when launching your eCommerce business. The platform you choose for your business, such as Shift4Shop, WooCommerce, or Magento, can greatly impact its success.
Take StudioSuits as an example. They've prioritized their online store experience to sell custom suits and jackets.
How? They've improved their online store for customers by focusing on straightforward navigation and personalized options.
You can place an order on their website in four simple steps. This simplified process makes their customer's buying journey as smooth as possible.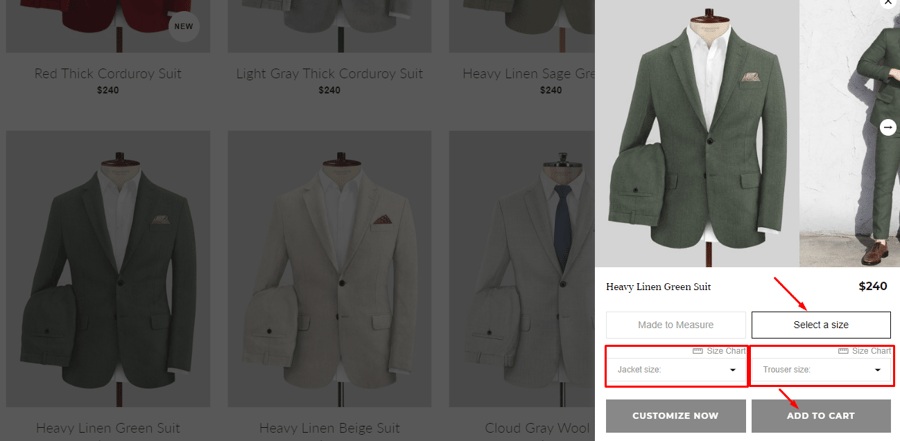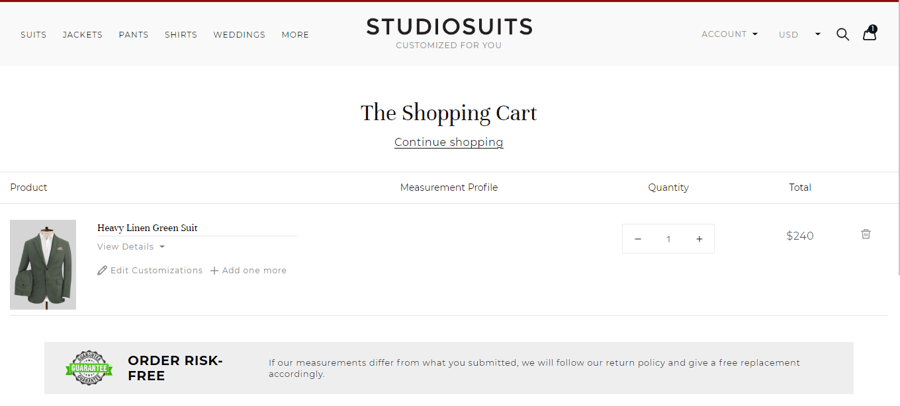 Source: StudioSuits
The result? Lower bounce rates, higher conversion rates, and happy customers. Oh, and let's not forget a stronger bottom line.
2. Project Management Tools
Launching an online business isn't a walk in the park. To maintain smooth operations, you'll manage multiple projects simultaneously. And keeping track of all of them is a difficult task. 
But don't worry. There are tools to make your business and life easier and more organized.
Notion is an excellent option because it's simple to use and has great flexibility. 
You can customize your project boards with integrations, including Google Drive, Zapier, Slack, Trello, and other tools in your tech stack. Its flexibility allows you to manage things the way you want. 
Notion's extraordinary growth (from 1 million users in 2019 to 30 million in 2023) speaks volumes about its impact on business owners. 

Source: Notion
Another feature that makes Notion an instant favorite is its pricing plans. Notion is entirely free to start. You can opt for an upgrade as your needs grow, but even then, the plans won't empty your wallet.
3. Communication and Collaboration Tools
For a successful business launch, you need a toolkit (read: tech stack) of resources to streamline communication and collaboration between team members.  
Just as networking tips underscore the significance of building meaningful relationships, these tools serve as enablers for connection. These robust communication platforms, collaboration software, and online presence enhancers aren't just tools — they're avenues to engage, relate, and create resonance.
Networking tips enhance the impact of ‌business launch tools. Together, they foster an environment where networking becomes a cornerstone of growth, enabling entrepreneurs to confidently launch their businesses and cultivate lasting connections that propel their ventures toward success.
Slack, Zoom, and Loom are staples in most startups. They're cost-effective and allow for seamless communication regardless of timezone or geographic location. 
But as an early-stage business, you mustn't be a stranger to corporate needs. Although you're just getting started, you may still have access to a group of stakeholders (co-founders, employees, freelancers, mentors, etc.) that you can lean on to help make important decisions. 
That means learning to run efficient and effective meetings is critical to success. Why? Time is money, and no one wants to be stuck in meetings constantly. 
Meeting software such as OnBoard can benefit you on a large scale by giving you access to past meeting insights. You can give every meeting your full attention, knowing you can automate meeting minutes and notes. 
Afterward, you can quickly access such meeting briefs through a secure and accessible portal with detailed analysis, meeting tools, and much more.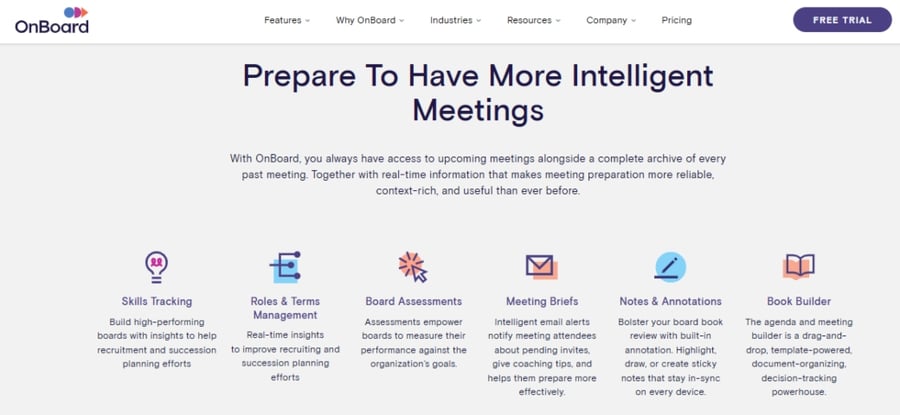 Source: OnBoard
It not only allows you to access the information but also control it, streamline meetings, encourage participation of all members, and reduce costs. What's not to love? 
4. Brand Identity Tools
What do McDonald's, Nike, and Tesla have in common? A strong brand identity.
To embark on your business plan confidently and stand out from the crowd, you need the right tools in your arsenal to create a professional brand identity. 
From striking logos to cohesive visual assets, Tailor Brands ensures your business launch is memorable and impactful. 
With its intuitive AI-driven platform, Tailor Brands guarantees a visual brand identity that resonates with your target audience, setting the stage for your business to shine from day one.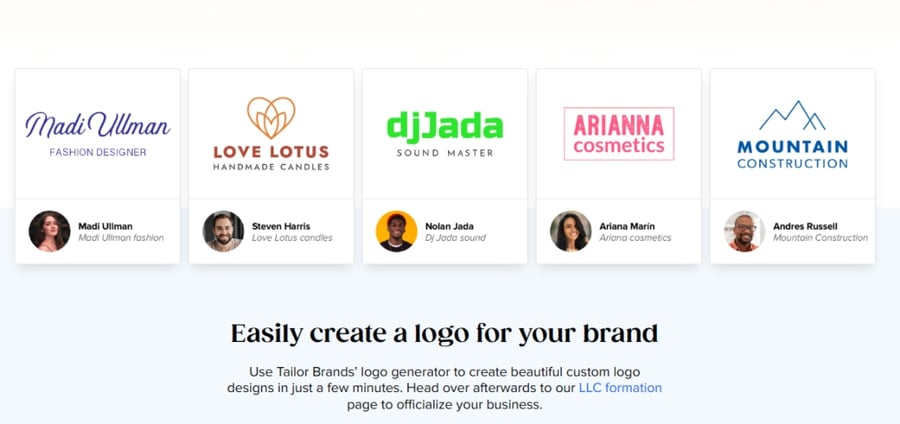 Source: Tailor Brands
And let's face it. As a business owner, you might be a mastermind in ideation or marketing strategy. But when it comes to design, don't worry if it's not your forte. That's where these brand identity tools shine and do the heavy lifting for you.
Don't underestimate the power of brand identity. First impressions matter. Getting it right (the first time) puts you on the fast track to success. 
5. Accessibility Checker Tools
There are about 1.3 billion people globally with a disability. This data point shows that one in six of us, or nearly 17% of the world's population, fall into this category. 
So, if you're not including this pool of people by making your website accessible for them, then you're missing out on a significant piece of the market. 
But that's not all. Consider this…
First, inclusion matters! Guaranteeing the accessibility of your company's website to all people is an ethical stance that many people care a great deal about. Remember that those people make choices with their money. 
Second, from a legal standpoint, this isn't just a suggestion but a mandate in the United States. When you're about to launch your business, ensure you're starting off on the right foot by following business laws.
It's essential to have an accessibility checker in your toolkit to avoid legal pitfalls and hurdles regarding accessibility standards.

Source: accessiBe
That way, you can quickly determine (and remediate if necessary) if your website is ADA and WCAG-compliant. You'll sleep better knowing your website is inclusive to everyone (and you'll avoid any legal trouble). 
6. Customer Relationship Management (CRM) Software
Customers are the lifeblood of your business. And as a newcomer to the market, keeping them happy and satisfied should be your top priority. 
Adding customer relationship management (CRM) software to your toolkit is critical to building a competitive advantage immediately.
While there are plenty of options to choose from, there's one platform that stands out from the crowd. 
Monday.com's sales CRM has earned the confidence of more than:
152,000 customers
200 countries
200 industries
Its user-friendly interface and seamless setup have contributed to its impressive 4.6 out of 5 stars on G2.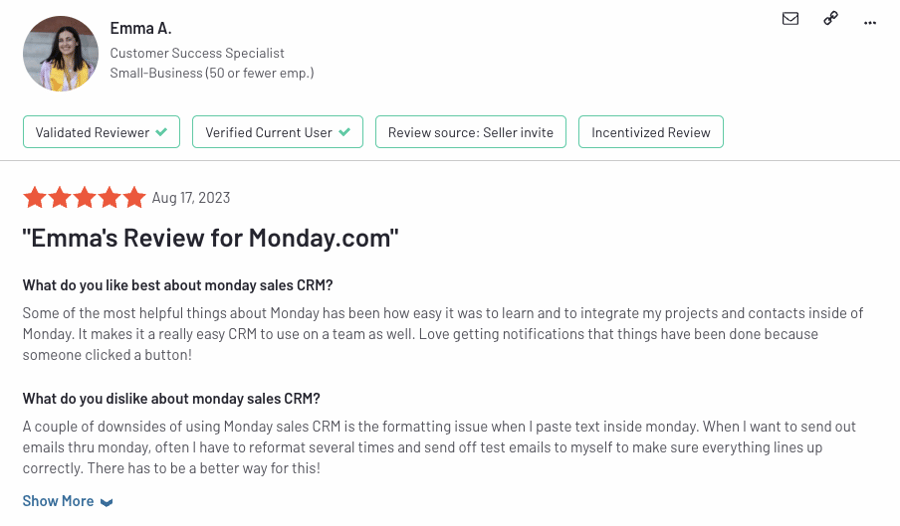 Source: G2
This software is very flexible and can be used for various purposes, like tracking activity, performance, and forecasting sales. All your daily tasks are a breeze with its user-friendly dashboard.
Through email tracking, activity management, and email templates, you can track each sent email individually with complete email sync (with Gmail and Outlook).
The data is easily accessible for you to make better business decisions. With Monday.com, you can easily capture leads and convert them into potential customers. 
And that's not all.
You can control your entire social media workflow with just one board. Monday.com allows you to oversee your marketing plan, social media platforms, calendars, posts, and digital assets. In short, it enhances your productivity and keeps your business organized.
There are four pricing plans. You can start with "free forever," which allows two users in a team.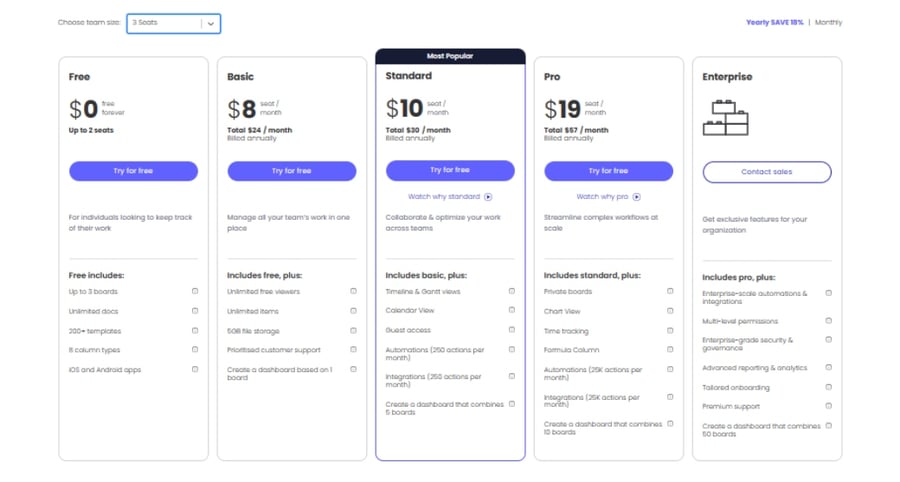 Source: Monday.com
While the free plan has certain limitations, it's still a helpful starting point for small business owners. The paid upgrades offer additional features that benefit larger teams and enterprises. 
7. Employee Management Tools
Eventually, every successful business has employees. Whether they're full-time, part-time, freelancers, or contractors, you'll need to manage them and everything that goes with them. That means more tools. 
You'll need tools to assist with scheduling and payroll. An employee hours tracker can track your team's working hours to build accurate digital timesheets. 
These trackers can automatically organize all data into a digital timesheet, which managers can quickly review. Thanks to ‌automation features, these tools help reduce manual errors and save time.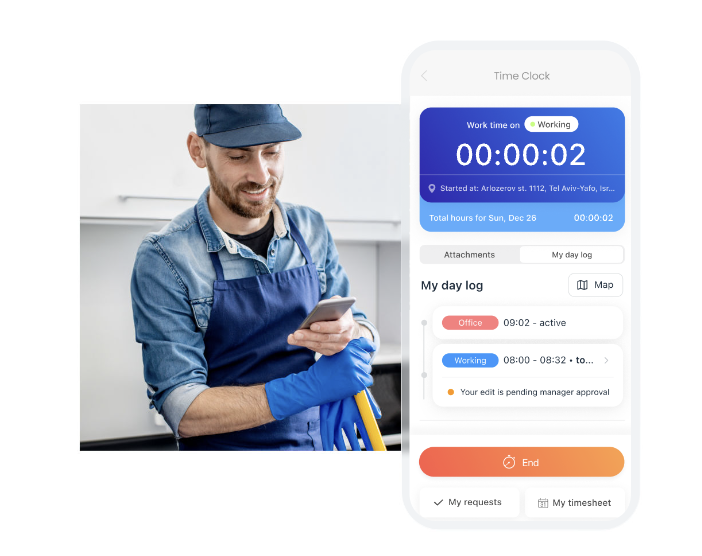 Source: Connecteam
Some time trackers also integrate with your payroll system. That way, the entire payroll process is streamlined. No more paperwork, employee time theft, or incomplete timesheets. 
8. Courier Services
Every eCommerce business involves deliveries to customers. To maintain customer satisfaction and the highest level of customer service, you must consider what your customers value most. 
61% of consumers are willing to pay more for same-day delivery. How can you meet that need?
Partnering with a reliable courier service can guarantee your packages reach their destination on time.
Every package delivered on time and every product received in perfect condition solidifies the customer's trust. And in business, trust is paramount. A top-tier courier service does more than deliver goods. It delivers on promises, punctuality, and professionalism.
As you gear up to launch your business, remember the importance of the behind-the-scenes heroes. A dependable courier service is one such tool, guaranteeing that each transaction concludes with a happy customer eagerly awaiting their next purchase.
9. Finance Trackers
As a new business owner, you might feel like you don't need a financial management tool yet. But that's it never hurts to keep the pulse of your financials. 
That's why having an expense tracker in mind right from the get-go is worth it.
With a good tracking tool, you can monitor your cash inflows and expenses. In short, it'll help you wisely manage your finances.
FreshBooks is a financial management tool that can help you track (and save) tons of money at the beginning of your entrepreneurial journey.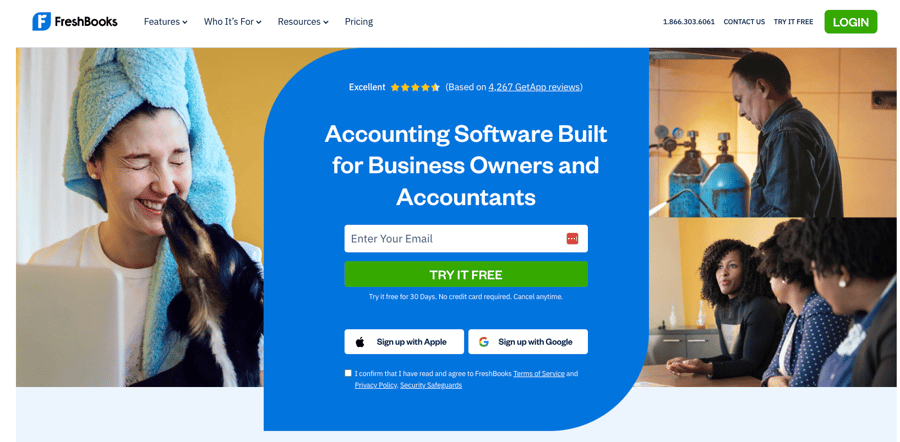 Source: FreshBooks
What's so great about FreshBooks?
It's affordable, starting at $17/month.
It connects with over 100 apps.
Over 10,000 companies trust it.
It saves $7,000+ in billable hours.
The tool lets you link your bank accounts to give you a snapshot of your finances in a user-friendly dashboard. FreshBooks also lists your expenses across all linked accounts and helps you categorize them. 
Using the drop-down menu of expense categories, you can easily organize your financial data and add a custom tag to those transactions.
The reporting features are also amazing. You can create and send invoices (for free). It automatically creates essential accounting reports like:
Balance sheets
General ledger
Bank reconciliation summaries
Profit and loss statements
Trial balances
Sales tax summaries
As your business grows, you can unlock additional features with premium plans and share them with your accountant come tax season. It's the perfect tool to help keep you in the green. 
Bonus: Access to Capital
While starting a digital business usually requires less capital than a brick-and-mortar, some expenses are unavoidable. You'll need money for web hosting and design, marketing, freelancers, and inventory. 
Bootstrapping your business with a full-time job or savings is an option for some. But if that's not in the cards for you, then exploring personal loans may be a viable option. 
Personal loans can be a lifeline, offering a financial cushion without diluting company ownership. Just as reliable software helps manage tasks, a timely loan can fuel the initial push for new business needs. 
Like every tool on this list, when used wisely, personal loans can be the difference between a challenging launch and a successful one. 
Final Thoughts
At first, a long list of tools may seem daunting. But soon, you'll understand and appreciate the time, money, effort, and stress they save you, and you'll be relieved to have them in your toolbox. 
Hang onto this list of tools for starting a business (bookmark this post). We're confident these tools will give you and your launch the boost it needs.
Post Disclaimer
The information provided in our posts or blogs are for educational and informative purposes only. We do not guarantee the accuracy, completeness or suitability of the information. We do not provide financial or investment advice. Readers should always seek professional advice before making any financial or investment decisions based on the information provided in our content. We will not be held responsible for any losses, damages or consequences that may arise from relying on the information provided in our content.